Join the VTTA
Collector? Restorer? Vendor?
You Get Up to 14 Benefits in Your VTTA Membership! ...
1. All VTTA Members Receive...
a) Regular VTTA Newsletter;
b) An Industry Magazine or Special Niche Report on the Collecting Area you have selected (See Application);
c) FREE Advertising at VTTA's site;
d) The right to purchase one or more of the VTTA Signature Series 100 Exclusive Hand-Built Trucks with Numbered Certificate of Authenticity;
e) Let the world know and use the VTTA "Member" logo on your materials and letters; (plus a free starting supply!) along with a Certificate of Membership suitable for framing;
f) Have at least one of your "Stories Behind the Find" articles published by VTTA;
g) VTTA Members will never see a fee increase! Lock in your membership fee – See the application now!
h) First consideration for VTTA-sponsored or VTTA-affiliated events;
i)VTTA Members will enjoy more in the months and years ahead
j) Free - 1:32nd Scale VTTA Exclusive 1923 Kenworth Tanker plus you will have the opportunity to purchase other exclusive VTTA trucks.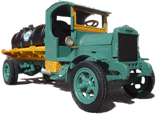 Get this VTTA Custom 1923 Tonkin Kenworth Tanker FREE with your Premium Membership in Vintage Toy Trucks of America! Supply is limited!